What had to become the 2nd big European Organ-on-Chip Society (EUROoCS) meeting in Upsala for 3 days, was eventually re-organized into a very successful 2-day online event on the 8th and 9th of July, due to the current worldwide COVID-19 crisis.
Science from the sofa
Instead of an on-site meeting in Sweden, the organization took the challenge to install an online infrastructure to host the meeting. There were two online meeting rooms, where two sessions of presentations could be held in parallel and additional meeting rooms for each separate poster during the poster sessions. In this way, everyone who registered was able to follow the meeting from home on the sofa, at the office or some even gathered in smaller groups with a live stream. Even coffee breaks were scheduled to give everyone the opportunity to prepare a fresh home-made coffee. For presenters there was a separate access point to the virtual meeting room to enable them to share screens with attendees of that session. Eventually, there were a total of 38 presentations, including 6 lectures. During the poster sessions (three sessions in total) there were also more than 150 posters.
Crisis center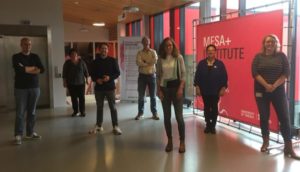 Although the meeting was fully online, the people from the organization were the only one 'on-site' during the duration of the meeting. To let everything run as smooth as possible, they had set-up an infrastructure for the moderators of the meeting. Although the meeting was originally planned to be held in Upsala, the so called 'crisis center' was set-up at the University of Twente campus where the required infrastructure could quickly be set-up.
NOCI presentations at EUROoCS 2020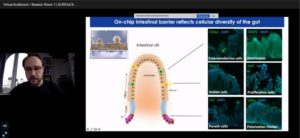 As the Netherlands Organ on Chip initiative (NOCI) we were represented by 7 posters and 5 presentations during the different sessions. The opening and also first keynote lecture were given by Andries van der Meer from the University of Twente entitled 'blood vessels in Organs-on-Chips'. The first short presentation from NOCI was given by Lena Koch from University of Twente, about the 'development of a microbiome-gut-brain-axis on a microfluidic chip'.
The next day, Dennis Nahon from Leiden University Medical Center presented is work entitled 'Modular 3D NVU-on-a-chip model for studying vascular dementia' and at the same time Joram Mooiweer (picture) from University Medical Center Groningen presented the work of his group entitled 'Celiac disease-on-chip: modeling a multifactorial disease in vitro'. Lastly Berend van Meer gave a presentation entitled 'Towards Organ-on-Chip Infrastructure: Qualification & Standardization of Organ-on-Chip models'
Despite it being an online meeting, everything went very smooth and gave a great overview of organ-on-chip research inside, but also outside of Europe.
Joram Mooiweer NOCI PhD-student at UMCG